Travel
Where Is Bali? Things You Need to Know Before Visit Bali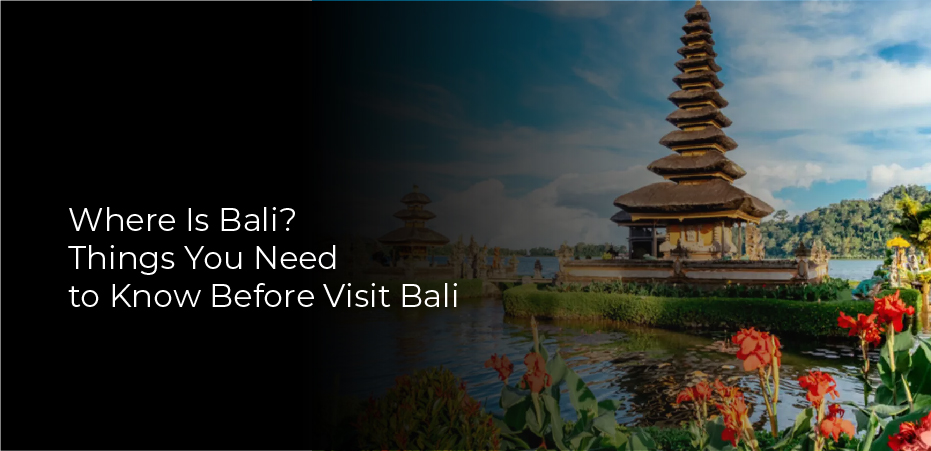 Where is bali? Bali is located in the Lesser Sunda Islands, Indonesia. It is the most popular tourist destination in Indonesia and one of the most popular in the world. The island has a population of over 4 million people and is known for its beautiful beaches, lush green countryside, and rich culture.
The location of Bali, Indonesia
Bali is a province of Indonesia located on an island of the same name. The province is located in the Lesser Sunda Islands and has an area of 5,780 km². Bali is surrounded by the Java Sea to the north, Lombok Strait to the west, and the Flores Sea to the east. Its capital is Denpasar. The population of Bali was 4,317,404 as of the 2020 census.
The island's Hindu culture dates back to around the 2nd century AD when it was first introduced by traders from India. The cultural influences from India have been strong, with many ceremonies and rituals being based on Indian tradition. Hinduism remains the dominant religion in Bali to this day.
Bali is well known for its beaches and its natural beauty.
Bali Regencies
Bali consists of 8 regencies. The regencies are: Badung, Gianyar, Jembrana, Karangasem, Klungkung, Buleleng, Tabanan and Denpasar. Each regency has its own unique culture and attractions that make them worth visiting.
Badung is the most populous regency in Bali and is home to the city of Denpasar. It is also home to some of the most popular tourist destinations on the island such as Kuta Beach and Jimbaran Bay.
Gianyar is located in the central part of Bali and is known for its traditional dances such as the Barong dance. It also has some of the most beautiful temples on the island such as Ulun Danu Bratan Temple.
Why Is Bali so Famous?
Bali is located in the Lesser Sunda Islands. It is one of the most popular tourist destinations in the world and is noted for its natural beauty, rich culture, and warm hospitality. There are several reasons why Bali is so famous.
First, Bali has a beautiful landscape with mountains, rice paddies, and beaches. The island is also home to some of the most stunning temples and religious sites in the world. Second, Bali has a very rich culture that dates back centuries.
The Balinese people are known for their artistry, dance, music, and cuisine. Finally, Bali is known for its warm and friendly people. Visitors often remark on how hospitable the locals are and how they make you feel welcome from the moment you arrive.
Things to Do in Bali
Bali is one of the most popular tourist destinations in the world. It's no wonder with its beautiful beaches, lush jungles, and friendly people. There is something for everyone in Bali. Here are some things you can do while in Bali:
Try Surfing
When it comes to things to do in Bali, surfing is definitely up there on the list. This beautiful island has some of the best waves in the world and is a popular spot for surfers of all levels. If you're new to surfing, Bali is a great place to learn. There are plenty of surf schools throughout the island, and the locals are always happy to help out beginners.
There are also plenty of places to ride waves for experienced surfers. The south coast of Bali is home to some world-class breaks, and there are waves to be found all over the island. Be sure to check out Uluwatu, Padang Padang, and Canggu if you're looking for an adrenaline rush.
Go to the beach
Bali is home to some of the prettiest beaches in the world. Whether you're looking for a quiet spot to relax or want to participate in some water sports, there's a beach for you.
Take a hike
There are many hikes to choose from in Bali, each offering amazing views of the island's natural beauty.
Visit a temple
There are dozens of temples throughout Bali, each with its own unique architecture and history.
You can also visit Ubud right there. Diving and snorkeling are also popular activities in the area.
Tips for Finding Flights to Bali
There are so many things to consider when booking a flight. The following tips will help you find the best flight to Bali for your needs:
Decide what time of year you want to go. Bali is a popular destination, so flights can be expensive during peak season. If you're flexible with your travel dates, try looking for flights in the off-season. You may be able to save money on airfare and enjoy smaller crowds at the same time.
Research different airlines and flight combinations. Not all airlines fly direct to Bali, so you may need to connect through another city. Compare prices and itineraries between different carriers to find the best deal.
Consider layovers. If you're on a tight budget, consider flying to a nearby city and taking a connecting flight to Bali instead of flying direct.
The Best Times to Visit Bali
Bali is a popular tourist destination, known for its beautiful beaches, rich culture, and relaxed atmosphere. There is no wrong time to visit Bali, as the weather is generally sunny and warm all year round. However, there are some times of year that are better than others if you're looking for specific activities or want to avoid crowds. Here are the best times to visit Bali:
If you're looking for good weather and want to avoid the crowds, visit Bali in the dry season from April to October. This is also the best time to go surfing or diving, as the waves are bigger and the water is clearer. The downside is that it can be quite hot during this time of year.
If you're interested in seeing Balinese culture at its most vibrant, visit during the Nyepi festival in March or April.
Where To Stay In Bali
Bali is a stunning Indonesian island known for its lush jungles, dramatic coastlines, and world-renowned beaches. It's also home to a fascinating culture and a wide range of activities, making it the perfect destination for a vacation. If you're planning to visit Bali, deciding where to stay can be tricky. Here are some of the best places to stay in Bali:
If you're looking for an affordable option, consider staying in Kuta. This popular beach town is home to plenty of budget-friendly hotels and restaurants. It's also close to some of Bali's best beaches, making it the perfect spot for beach lovers.
If you're looking for something a little more upscale, consider Seminyak. This trendy town is known for its high-end resorts and restaurants.
More Bali Travel Tips
If you're still thinking about whether or not to add Bali to your travel bucket list, these tips might just push you over the edge.
First, while Bali is a Muslim-majority country, it's very relaxed about religion and you're not likely to feel uncomfortable as a foreigner. In fact, most Balinese are incredibly welcoming and hospitable.
Second, the beaches here are some of the best in the world. You can find everything from secluded coves to lively party beaches, and there's no shortage of perfect sunbathing spots.
Third, although Bali is a small island, it's packed with things to do. There are plenty of temples and other cultural attractions to explore, as well as great hiking trails, lush rice paddies, and stunning waterfalls. And don't forget the incredible nightlife scene!