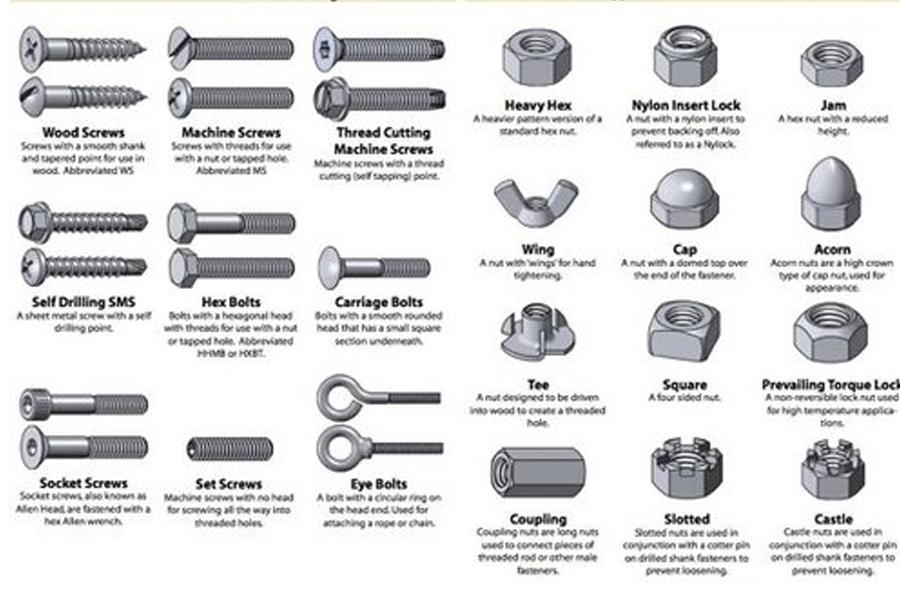 A nut is a small metallic piece with a spiral cut groove that runs around a hole in its centre. A bolt on the other hand is a metallic piece with a round stem as its body and threaded into one end.
Nuts come in many types, including hex, cap, coupler, wing, turnbuckle and lock types. Bolts also come in a wide range of types, including square, round and flat button head bolt.
Hex Nuts
Hex nuts are one of the most popular fasteners on the market, and they work with a variety of tools. They are especially useful for building shelving and completing car maintenance tasks.
They can also be used to attach wood and metal base materials together. Hex nuts can be purchased in various sizes and finishes to meet a wide range of needs.
Hex nuts are typically made from a variety of materials, including steel and stainless steel. They come in different strength grades as well as coatings to reduce friction or increase corrosion resistance.
Cap Nuts
Cap nuts are a type of fastener that differs from other types because they feature an integrated dome-shaped head that acts as a decorative covering for the threaded end.
They are commonly used as a finishing piece for bolts, and they can also be used to conceal protruding threads on other bolts. They come in various shapes and are available in a variety of materials.
There are several different varieties of cap nuts, and each has its own benefits. Some have threads that mate with the bolt to provide maximum reliability, while others use multiple contact points to hold the nut in place.
Coupler Nuts
Coupler nuts, also known as extension nuts, are used to join two pieces of threaded rod, pipe, or other components together. These fasteners are available in a variety of sizes and materials, and they can be used for a wide range of applications.
Coupling nuts are often used as a way to turn short male threaded rods into long tie rod assemblies. They are typically hex-shaped to accommodate wrenches and have left-handed threads that allow for the rod to be inserted into both ends of the nut, turning the short rod into a single longer rod.
Wing Nuts
Wing nuts are a type of nut that features two large metal "wings," which make them easy to tighten and loosen by hand without the use of tools. They are often used in parts that need frequent disassembly or reassembly, such as access panels or adjustable furniture.
These fasteners are available in a variety of materials and finishes, with convenient sizing options. They are also classified based on the manufacturing method and style.
Turnbuckle Nuts
Turnbuckles are a common rigging device used to take up slack and apply tension in a rope, cable or other tensioning system. They are designed to be loaded in straight pull, inline applications and come in a variety of types, sizes and coatings to suit many suspending, tie down and tensioning type applications.
The end fittings screw into opposite ends of the turnbuckle body, which is turned to adjust tension by extending and retracting the end fittings. The body may be one of two types: closed or open. Closed body turnbuckles–also known as pipe bodies–encase the threads in a closed frame to create a slimmer profile that fits in tighter spaces.
Bolts
Bolts are metal rods that feature a threaded end and can accommodate a nut. They are commonly used to secure metal parts in a variety of industrial applications.
They are available in various types, including hex bolts and countersunk bolts. Hex bolts are characterized by their hexagonal head, which is gripped easily by wrenches and screwdrivers.
Hex bolts are commonly used to connect machine parts and structural components. They are also suitable for securing parts made from wood. They are available in a wide range of standard sizes.